Social Marketing
Social Marketing is a research-based process designed to influence the behavior of the target audience.
---
The Social Marketing Textbook for Partners
Social marketing plays an important role in the design and implementation of many SNAP-Ed activities. This approach emphasizes:
Targeting

Targeting an identified segment of the Supplemental Nutrition Assistance Program (SNAP) participants and eligibles.

Identifying

Identifying nutrition needs of the target audience and associated behaviors and perceptions about reasons for and against changing behavior.

Interacting

Interacting with the target audience to test the message, materials, approach and delivery channel to ensure that these are understood and meaningful (are likely to lead to behavior change).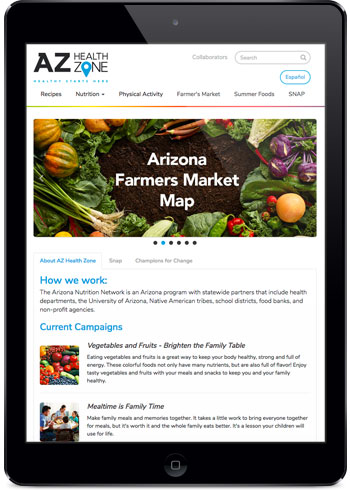 ---
AZ Health Zone conducts statewide campaigns to relay nutrition messages through its social marketing program. Message development is based on formative research, and is pre-tested to ensure relevance.
These messages serve to encourage SNAP participants and eligibles in Arizonan to choose a healthy diet and an active lifestyle to ultimately reduce chronic disease risk. The social marketing campaigns have standard themes which keep the messages consistent, ensure recognition and provide educators with ready-to-use materials that are tailored to each campaign.